"Crafting a Smart Loft Ladder:
The O'Connor's reached out with a challenge: a loft in their new carriage house needed a smart solution to access their storage space. They sought easy, safe access and a ladder that could be stowed away when not needed. Traditional attic ladders didn't fit their needs, often too flimsy for heavy items. and too narrow for bulky stuff. We realized a custom ladder was what was needed.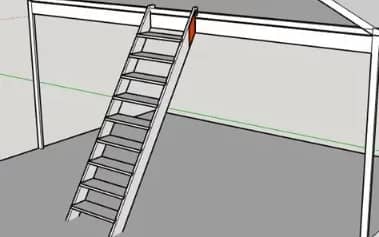 Our collaboration began by exploring folding ladder designs, but it became clear that making it a folding ladder wouldn't work the way it needed to, so we settled on a library ladder-style concept, allowing movement along the loft's edge. That would allow the ladder to be moved out of the way when not needed.
Using a ship's ladder as inspiration, I designed a ladder that bridged the gap between stairs and ladders. To mount it securely, I engineered a steel bracket highlighted in red, fashioned from quarter-inch steel plate.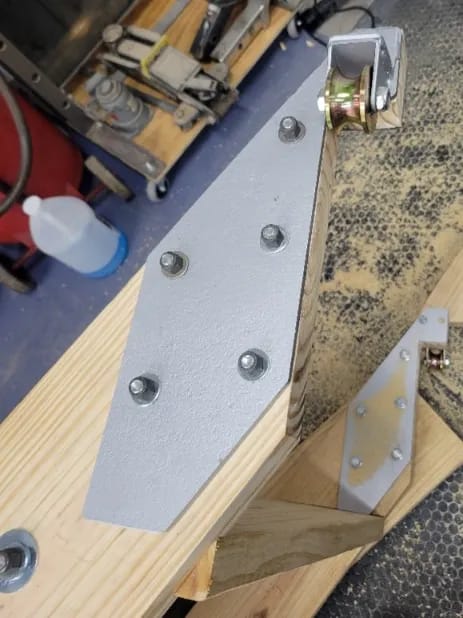 With components ready, I sourced additional supplies from a home improvement store. Adamson Brothers a local sheet metal shop, and HVAC business here in town; expertly cut the steel brackets I had designed. After cleaning the parts, a little welding was needed for attaching rollers and finally finished up with some paint to protect the steel.
I used dense southern yellow pine for the ladder frame and steps, building in dado slots for secure steps. I also cut additional grooves in the bottom of the treads to accommodated all-thread reinforcements, ensuring longevity and safety.
Electrical conduit, or "EMT," provided tracks for the ladder's rollers along the edge of the loft. Galvanized water pipe formed a handrail, and some grip tape on the steps to help prevents slips. The installation went smoothly, providing The O'Connor's with a practical and satisfying solution. (Featured photo above is of the ladder installed in it's new home)
Though not my typical project, but always up for a challenge this ladder expanded my skills and it was a pleasure to build. If you're in need a unique solution for your living or office space, reach out. I'm here to help, Thanks for reading!