Ever since I launched Wes Wood Stuffs, I've had the pleasure of connecting with amazing people. A local family-run sawmill near Emporia, Kansas "Tallgrass Custom Wood Products" has been a key source of wood for my customer projects. Kevin, Kay, and Nolan Church are the faces behind this operation, selling directly to the public with a focus on custom sawing and millwork, with the responsibly harvested Kansas hardwoods they sell. They've been a joy to work with, and this is how I ended up creating office furniture for them.
During one of my visits to pick up walnut slabs for a pub table, in 2021 I noticed they were expanding their building. Knowing they had plans for an eventual office space. The conversation got around to a question of whether I would be interested in helping them outfit the room with the furniture they wanted. I was very excited to get the opportunity to be a part of their project.
They gave me creative freedom to come up with designs, and after some back-and-forth, we locked in the designs and off I went. They needed pieces for three areas: the main desk with a credenza and upper cabinet, a wall-mounted cabinet to be used for a coffee station, and a corner desk with some drawer storage built in.
Our starting point was a massive elm slab for the main desk. Using my CNC router table, I flattened the top. One of the goals was to incorporate woods that would showcase various wood species they sell, using walnut for the credenza and upper cabinets, aiming for clean lines and practicality.
Drawing inspiration from midcentury modern and shaker designs, I crafted cabinets for the main desk.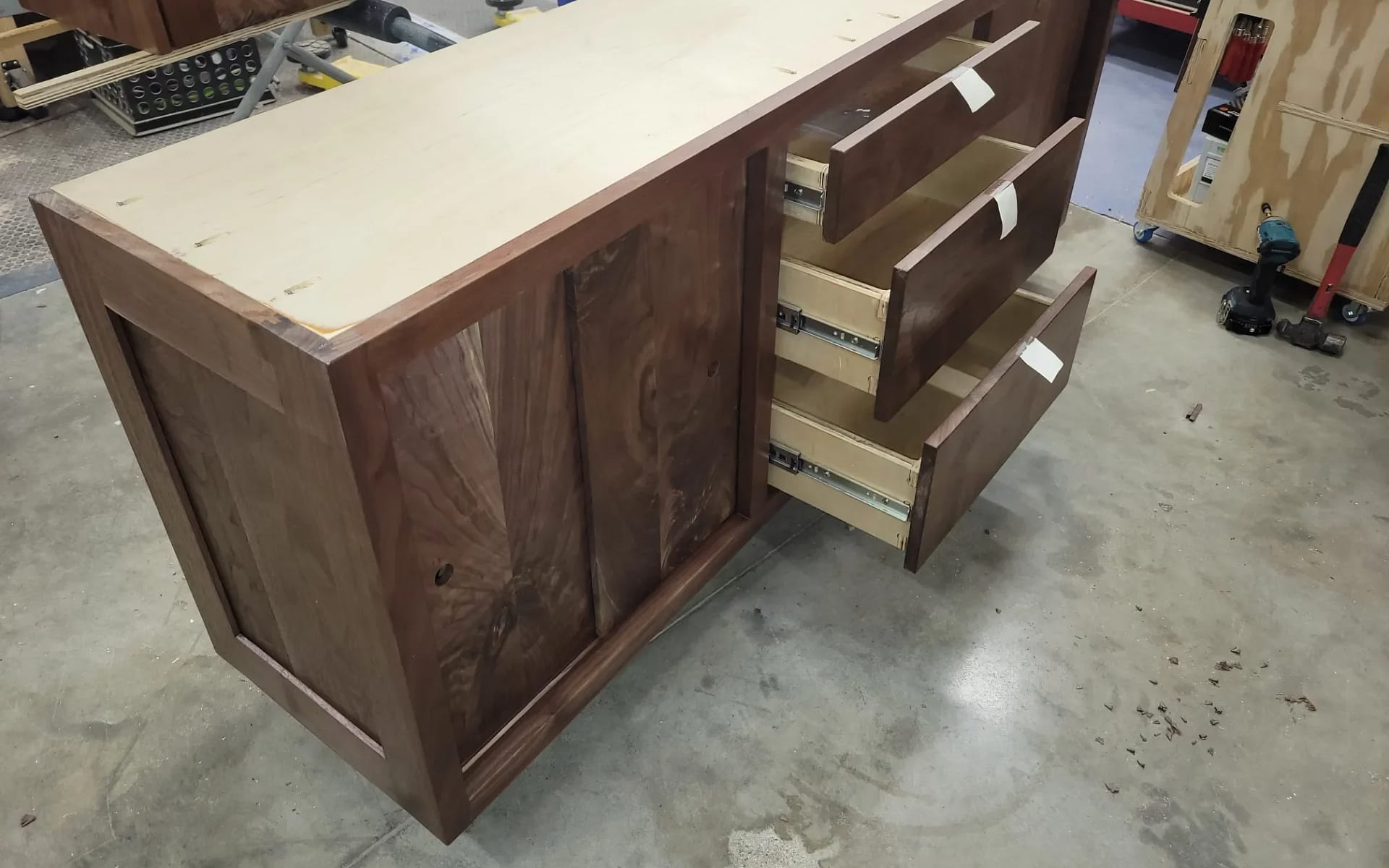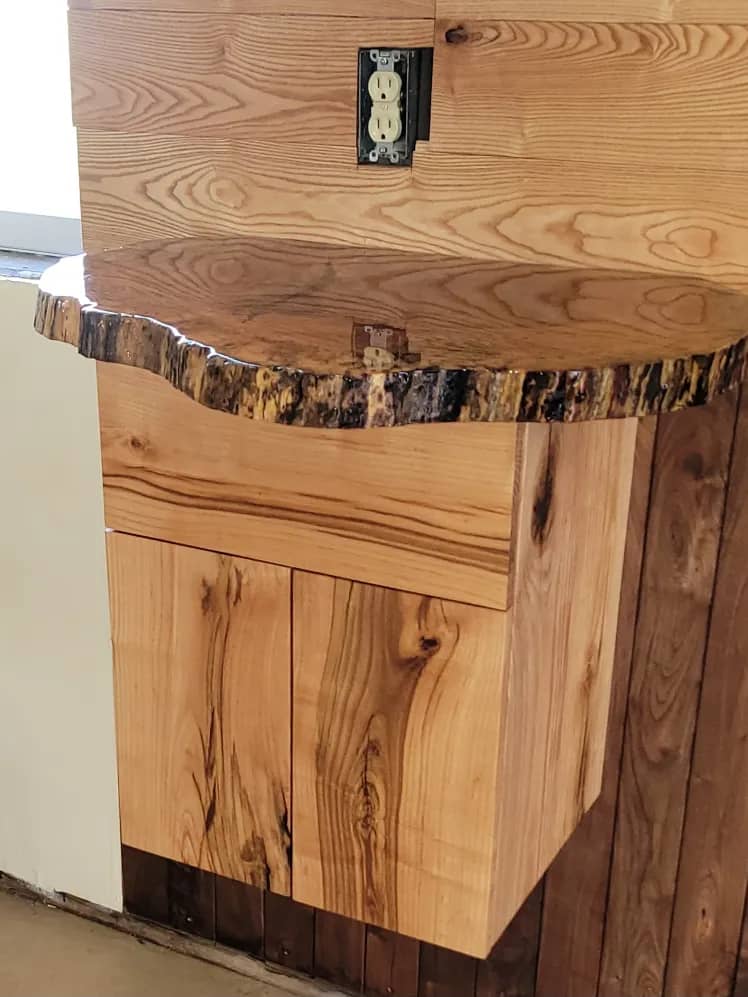 For the cabinet to be used for a coffee station, they provided a unique log slice for the top, (it required extensive epoxy work to stabilize and enhance its character.) The cabinet section features a frameless European style using Honey Locust hardwood. Though it's a small cabinet the one of a kind top is something that I was really happy with the final product
The corner desk shown above in the featured image combined Cyprus and hackberry slabs, with a central butcher block highlighting various wood species like Burr Oak, Shagbark Hickory, Mulberry and many others.
Their office walls are clad in Kansas Hardwoods, making the entire space a showcase of local wood craftsmanship. It's an honor to be part of their journey, and I'm delighted by the positive customer response to the finished products so far.
If your office needs distinctive, functional furniture tailored to your vision, I'm here to help you realize custom office furniture – Reach out, and together we can elevate your workspace.
If you're located in Eastern KS, or Central KS and in need of quality hardwood for projects you can get their email off their website Tallgrass Custom Wood Products Or send me a note through the contact page and I'll get you their full info.